Best Hosting Affiliate Programs: When it comes to monetizing your blog with affiliate marketing, it's a well-known fact that web hosting affiliate programs can be some of the most lucrative. The web hosting landscape is growing at a rapid pace. In the online world, good web hosting has become a necessity. After all, who doesn't need a website these days?
Cloudways – One of the Best Hosting Affiliate Programs
Since the industry has seen nothing but growth, many web hosting affiliate programs have crept up. While there are quite a few options, I would recommend the Cloudways web hosting affiliate program as one to participate in for sure.
This site features ads and affiliate content Disclosure • Advertise with us
Cloudways is one of the leading managed cloud hosting platforms.
They cater to digital agencies, ecommerce stores, freelancers, developers and bloggers.
It is a good idea to try Cloudways for yourself first before you start promoting it.
First, let us see what you, as an affiliate will get with Cloudways and then take a look at their commission structure.
Pin This: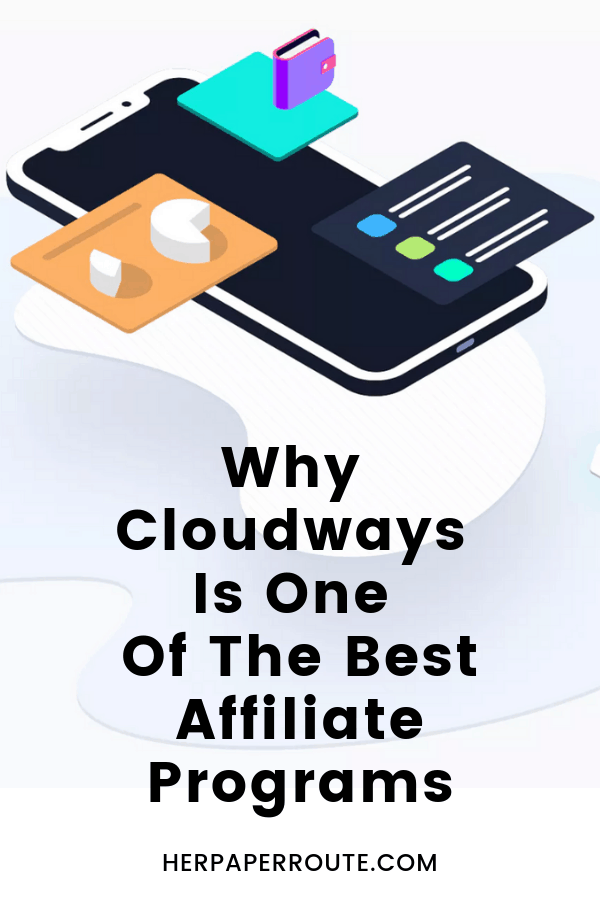 What Makes Cloudways One of the Best Hosting Affiliate Programs?
Dedicated Team of Affiliate Account Managers
Cloudways has a team of savvy affiliate managers.
These professionals know the ins and outs of the field, and are there to help affiliate marketers.
Whether you need help with onboarding or require affiliate banners, they will be there.
All you need to do is send them an email.
Comprehensive Learning Resources
Cloudways works hard to help you succeed.
They want to educate you so that you become a better professional. From blogs and e-books to monthly newsletters and how-to guides, they provide in-depth learning resources.
Real-Time Tracking
As an affiliate marketer, you have to be good with campaign measurement and analytics.
Cloudways offers real-time tracking to ensure that you never miss a sale. Also, they have a 30-day cookie feature for referrals that do not convert or sign up straight away.
Rigorous Performance Reporting
Cloudways offers affiliate marketers a comprehensive and user-friendly dashboard that provides detailed performance reports. You get insights from these reports which help you further optimize your campaigns.
Cloudways Commission Structure
After carefully assessing pain points of their affiliates, Cloudways has launched their revamped commission structure. This is what makes Cloudways one of the highest paying web hosting affiliate programs.
The structures are Slab, Hybrid and Custom.
Slab
Slab is a performance-based model. It helps you earn commissions based on the number of referrals that become Cloudways' customers.
This means that your earnings will keep on increasing with the number of referrals that convert.
Do note that your commission per sale also increases with the number of sales.
Consider this: Let's say, 10 of your referrals convert to Cloudways.
Hence, you will earn a commission of $75 per sale. However, if your conversions increase to 65, you can earn a commission of $125 per sale.
This gives you greater incentive to sell more.
The Slab structure is great for media publishers, entrepreneurs and performance marketers.
Here's a breakdown of Slab: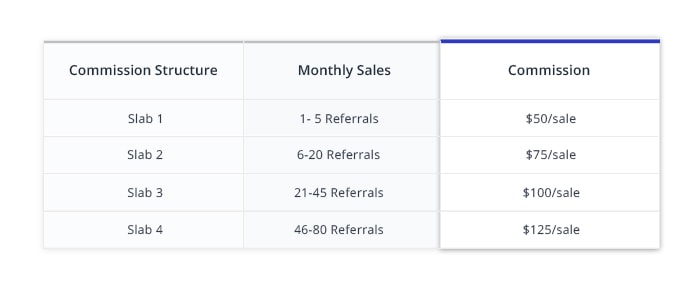 Hybrid
The Hybrid model is a recurring commission model.
It is a great way to earn passive income.
Under the Hybrid structure, you can earn commissions as long as your referred customer continues to use Cloudways' services.
To begin with, you get an upfront bonus of $30 as soon as your referral signs up with Cloudways.
After that, you keep earning a recurring commission which is 7% of that customer's total monthly invoice.
The Hybrid structure is great for bloggers, freelancers, developers and digital agencies.
Here's how the Hybrid structure looks like:

Any number of hybrid sales = $30 per referral plus 7% lifetime recurring commissions
Custom
Custom structure is perfect for savvy affiliate marketers. It has features of both Hybrid and Slab structures to give affiliates an enhanced experience.
It is perfect for an affiliate marketer who can convert more than 80 customers in a month.
After they have made 80 conversions, they will be able to earn up to $200 for every sale.
Take a look at this:
You can get your payout through PayPal if your commission reaches a threshold of $250.
To get Wire Transfer, your payout must be at least $1,000.
If you are a Cloudways customer, and an affiliate at the same time, and your payout has reached $100, you can receive your funds in your Cloudways account.

To Sum Up & Join Cloudways Affiliate Program
Whether you have just started out as an affiliate marketer or are a seasoned professional, web hosting is surely an industry you need to consider.
Cloudways offers one of the best hosting affiliate programs.
From revamped commission structure to comprehensive dashboard, they help affiliate marketers thrive in the competitive landscape.
Learn more about the Cloudways web hosting affiliate program.
Keep Reading