Hey there, friend! Today I want to share with you my top Pinterest tips. Pinterest is such an amazing tool for blog traffic. Along with organic traffic from Google, Pinterest consistently sends thousands of visitors to my site each day.
But visitors from Pinterest don't land here on coincidence, no, I have crafted a strategy that helps them get here on purpose.
This site features ads and affiliate content Disclosure • Advertise with us
Pinterest Marketing Tips: The Simple Tailwind Strategy That Will Skyrocket Your Blog Traffic
I have a very easy and very quick little guide to share with you today on how I do it, so you can your Pinterest prowess and ultimately increase your blog traffic too!
First, get your free copy of my Viral Pin Formula ebook which shows you how I design viral pins using free online tools.
This ebook is available to members of HerPaperRoute, free of charge as part of the HerPaperRoute Profitable Blog Toolkit. If you aren't yet a member, you can sign up here:
As well, give my Pinterest account @HerPaperRoute a follow, so you can stay in the loop with all of the free resources I share there on blogging, affiliate marketing and Pinterest marketing.
~ Pin This ~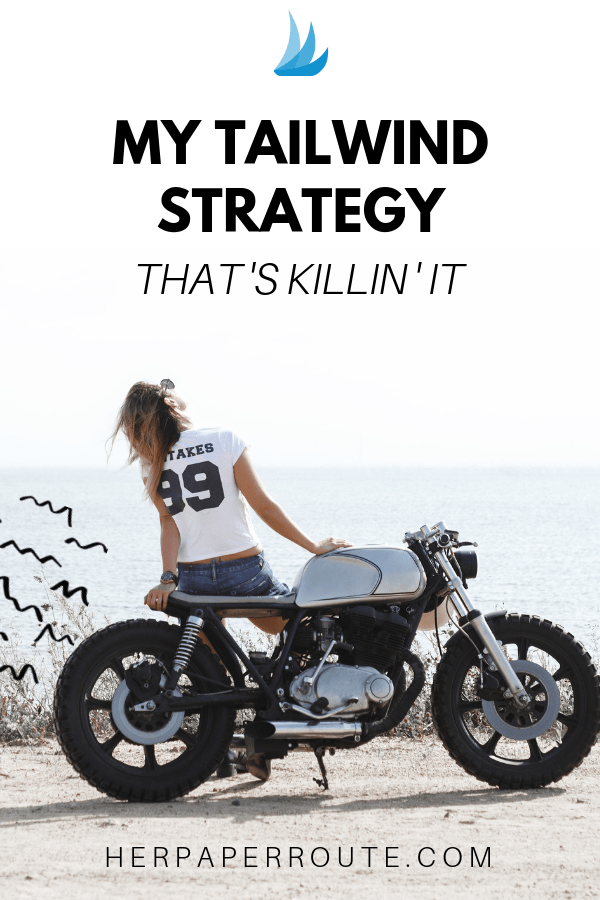 Pinterest Marketing Tips: The Simple Strategy That Will Skyrocket Your Blog Traffic
Using this SEO strategy, I sent my Pinterest page views and my website page views up over 10x what it had been before!
I don't use the word 'skyrocket' lightly, but in this case, skyrocket is exactly what happened. I managed to 'crack' the Pinterest algorithm and get all up in the smart feed.
So I'm pumped to share my Pinterest tips with you.
The first thing to keep in mind is that Pinterest is a search engine, much like Google.
What this means is it is SUPER important to set up your images with strong SEO keywords.
I'll show you how to do that below.
Some Quick Pinterest Tips
Follow my guide on how to create viral pins
Join as many Pinterest group boards as you can find, that fit your niche. See How To Find Pinterest Group Boards
When you have a new blog post / new pin, make sure that you pin it to one of your niche boards first, a board with lots of keywords that is on-topic for what this new pin/blog post is about. Don't post it to your 'best of ' board or any 'catch all' board on the first day. You need to give the first pin its keyword juice, to signal to Pinterest so it knows how to show it in search results.
Manually pin a bit each day.
Use Tailwind to schedule pins to your group boards.
Join some Pinterest Communities and promote there manually
Tailwind Tribes is pretty freakin' amazing, right? Come join the HerPaperRoute tribe here and get a $15 Tailwind credit too!
Pinterest Tips Step 1 – Rich Pin Certification
You must have a Pinterest business account, and be approved for Rich Pins. It's free.
I have a guide on how to set up Rich Pins here. Read that first if you aren't already set up for that.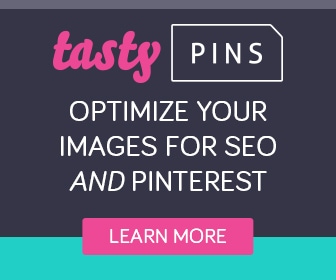 Pinterest Tips Step 2 – An Easy Image Seo Trick
This little trick is a simple and quick way to add keywords to your pins, so that they show up high in search results.
SEO can be confusing, but this is an easy way to implement strong SEO to your images/website without a headache.
First, go to your image library in WordPress ( Media / Library) and click the image you intend to pin on Pinterest. Here's what one of mine looks like: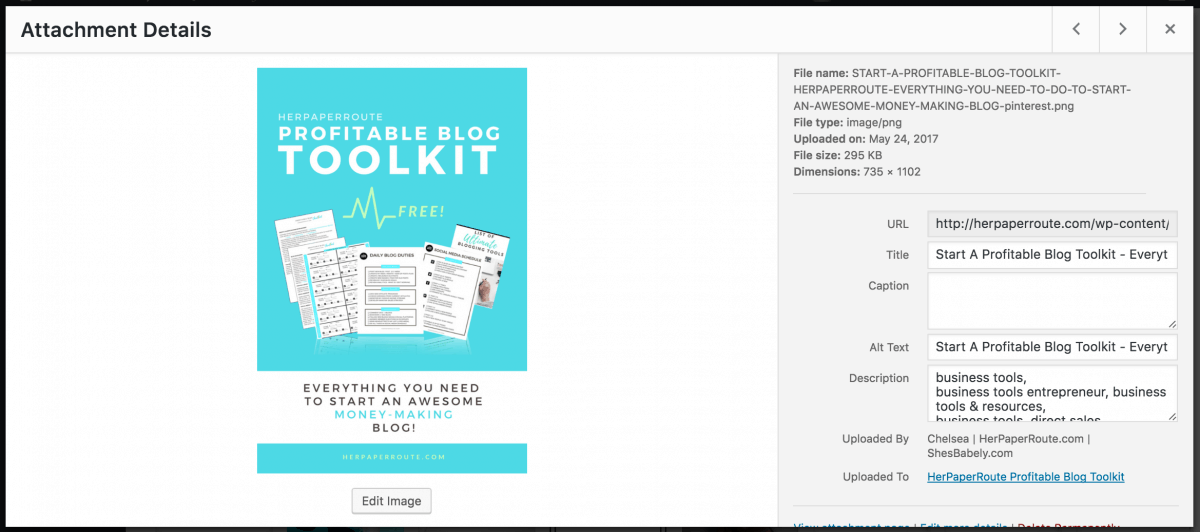 It's important to use alt tags on all of your photos, which are descriptive words for what your image and post is about. To do that, enter your info in the 'Alt Title' space, In the Alt Title space I've put:
"Start A Profitable Blog Toolkit – Everything You Need To Do To Start An Awesome Money-Making Blog – Tools And Resources I Use To Make Money Blogging – Passive Income – Affiliates – Content – Social Media – Management – Seo – Social Media Marketing | www.herpaperroute.com"
Then you will see that in the Description area, I've put a whole bunch of words. These are my keywords. These keywords are anything that someone might type into Pinterest or Google when looking for what my Pin is about.
As you can see, when the pin appears on Pinterest in the feed, it looks like this. Because I have enabled Rich Pins (Step 1), my profile picture appears, along with my blog info.
Get My Profitable Blog Toolkit <- It's free and packed with SO many resources to help you plan your social media attack and make money blogging!
Pinterest Tips Step 3 – Tailwind & Tailwind Tribes
Sign up for a new account on Tailwind: This link gives you a free month!
Simply connect your Pinterest account, and you will be given a multitude of powerful tools from your Tailwind dashboard, including showing your which of your pins and boards are doing the best and worst, and a fully visual overview of your scheduling efforts.
How I Use Tailwind To Automate My Pinterest Marketing
In the video below, I share my Pinterest marketing tips for growing your blog with the strategic use of Tailwind and Pinterest as a marketing tool.
Click 'play' to watch this over-the-shoulder demo of how I use Tailwind to automate my pinning efforts!
1. See the group boards I'm in & connect with me HERE
3. Tailwind Tribes is also super helpful for building traffic. I have a tribe here you can join, it's full of hundreds of awesome bloggers!
4. For my full Pinterest Marketing course, visit: Pinterest Marketing Training
Tailwind Tribes
Tailwind Tribes is a previously invite-only app that is the secret ingredient of bloggers and influencers to majorly boost blog and Pinterest traffic, engagement and social reach.
If you have been a reader of this blog for a while then you already know how I am a huge supporter of Tailwind Tribes!
You may even be in the HerPaperRoute Tailwind Tribe, which has helped hundreds of bloggers like you bring in major amounts of traffic from Pinterest.
How To Use Tailwind Tribes
For a step by step guide to using Tailwind Tribes, and how I use Tailwind Tribes to reach over 1 million monthly Pinterest page views, read this: How Rock Tailwind Tribes
Pinterest Communities
Pinterest Communities is a new feature that adds a social element to your Pinterest account. It also adds a whole new way to grow your blog and business.
Read my guide all about Pinterest Communities and join some here.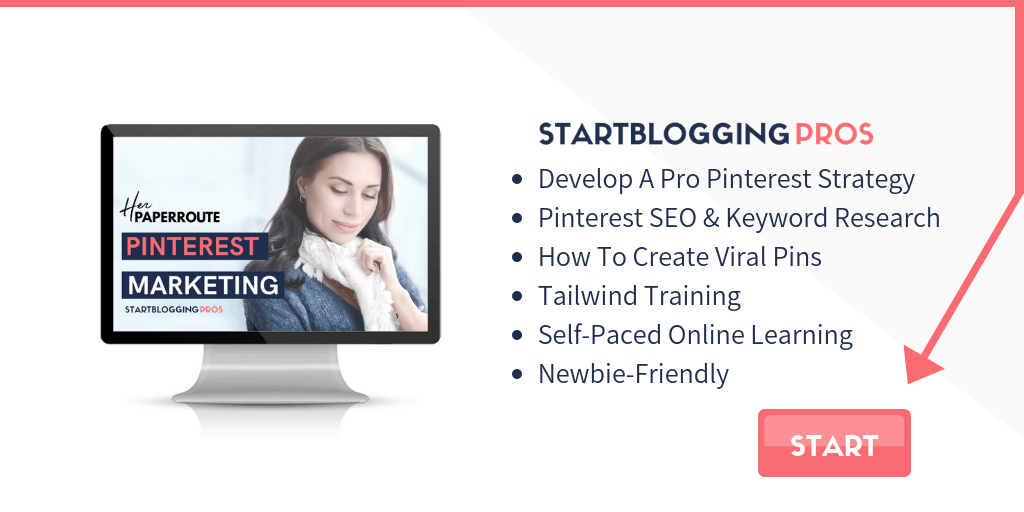 Ultimate Pinterest Course
Want my full strategy on how I grow my blog traffic with Pinterest, and earn a fulltime living as a blogger?
Come and join my epic Pinterest Marketing Course!
We cover exactly how to grow your blog and business by strategically using Pinterest as a marketing tool.
Save