Here's what you need to know about the Instagram shadowban.
The word "shadowban" has been buzzing around the Internet lately, with more and more Instagram users noticing that they have become a victim of it.
This site features ads and affiliate content Disclosure • Advertise with us
The Instagram Shadowban Is Real & Ruining Your Engagement
If you have noticed that your engagement on Instagram is dropping lately, are gaining fewer followers than usual or discovered that your images are no longer showing up in hashtags results, you very well may have been shadowbanned.
Related: Go Viral On Instagram (Without The Risk Of Being Shadowbanned) With This Trick
~ Pin This ~

What Is A Shadowban?
A shadowban on Instagram is when Instagram hides your account from everyone who isn't already following you.
Your account and images don't appear in any search results, and the hashtags that you use in your posts don't lead to any hashtag search results pages.
So ultimately, no one can see or find your account, making it impossible to grow your Instagram following. If your account has been shadowbanned you may not even know it.

Many users are claiming that their account was shadowbanned soon after switching to a business account.
This has not been confirmed by Instagram officially, but it seems to be a recognized theory among several account holders in the online community.
Why Are Instagram Accounts Being Shadowbanned?
There are a few reasons why accounts are being shadowbanned on Instagram. Your chances of being shadowbanned are high if you do any of these things:
Posting & following accounts too fast – Instagram has daily and hourly limits
Hashtag Over-Use – Using the same hashtag several times
Using Banned Hashtags – See banned hashtags list below
Using software that violates Instagram's Terms of Service – Such as using follow bots, auto-like apps
Your account is continually being reported
What Are Banned Hashtags?
Instagram has banned or restricted a ton of words that are offensive, 'spammy' or simply over-used. If you use any of these hashtags your post will not appear in search results, and your account may be targeted for a shadowban.
You can download the list of banned or restricted Instagram hashtags for free, via the HerpaperRoute Profitable Blog Toolkit.
It's free to be a member, and you get benefits such as discounts and free resources on Instagram and blogging. We don't send spam – just helpful, interesting resources related to blogging and Instagram to help you grow!
Access it here:
Warning: Some of the words may be offensive to some readers. Many of the words are slang or curse words, as you would expect to be banned. Interestingly enough, there are many harmless-seeming words (#kansas, #newyears, ) that are banned too!
Related: Go Viral On Instagram (Without The Risk Of Being Shadowbanned) With This Trick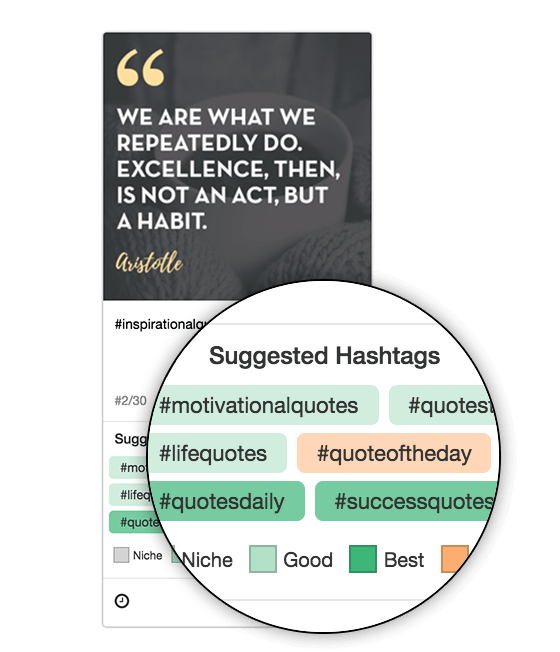 How Do You Know If You've Been Shadowbanned?
Log into Instagram from a different account, which doesn't follow your account, then look up one of your recent hashtags. If your image doesn't show up in that hashtag's search results when viewing from a different account, there is a good chance you have been shadowbanned.
If you don't have any secondary accounts, ask someone who isn't following you to check if your posts appear for them via their account.
How To Get Un-Shadowbanned, And How To Avoid Being Shadowbanned In The Future
If you have been shadowbanned, the good news is there are a few ways to un-shadowban yourself, and ways to prevent yourself from being shadowbanned in the future.
As a rule, never use a banned hashtag. It can be hard to know if a hashtag is banned, as new hashtags are banned often, so I recommend using the Tailwind Hashtag Finder App. This tool will suggest the best hashtags to use on a post, and steer you away from using any banned ones.
You can see my review about this app here.
How To Un-Shadowban Yourself
To get your Instagram account back in good standing, do all of these steps:
1. Stop using any automation that is against Instagrams' Terms Of Service. Revoke access from your API.
This means stop using any bots or apps that auto-like or auto-follow accounts on your behalf.
Log into your Instagram account on a desktop computer and in the 'edit profile' area, you will see a tab for 'Authorized Applications.'
Remove any applications that could potentially be a problem.
You can keep scheduling apps such as Tailwind, as Tailwind is an official Instagram partner, and the app actually helps your account by suggesting relevant, non-spammy hashtags. If you aren't yet using Tailwind to schedule your Instagram and Pinterest posts, you can try it free here.
2. Remove broken or abused hashtags from your set & delete them from old posts.
Review each of your past posts and manually remove any hashtags that appear on the 'banned list' or that you have used too often. Never use a banned hashtag.
Download my Haute Hashtags Hashtags eBook with over 1000 of the best Instagram hashtags for bloggers and entrepreneurs, organized by niche. These are all safe hashtags to use on Instagram.
Download the ebook for free here:
3. Switch back to a personal account
A business account on Instagram allows you to access additional features such as analytics that are not available on a personal account. However, these features don't seem to be worth the hassle or risk of a shadowban, so it's better to just keep your Instagram account as a 'personal' account, even if you use it for your business.
4. Take a break for 48 hours then engage manually and abide by Instagram's limits.
Instagram has daily and hourly limits for how much you can use its features. This includes limits on how many comments you can post and how many accounts you can follow and unfollow at a time.
5. Don't do anything that could get you reported
Make sure you don't post anything that someone may deem reasonable to report you for, as accounts that are reported often fall into 'shadowban territory.'
The HerPaperRoute Profitable Blog Toolkit