14 Pinterest Images Hacks Proven To Make Viral Pins
Are you struggling to get a good amount of traffic from Pinterest, and need to know the secret to making viral pins?
Designing beautiful Pinterest images that are high-quality and visually look great is important, that's for sure.
But the visual aesthetics aren't the only thing makes a pin go viral. The look of a pin is actually only part of the formula that makes it go viral on Pinterest or not.
This is my in-depth case study of how I make pins go viral in the tens of thousands of impressions and re-pins realm.
---
As an affiliate partner of various brands and sponsored content, HerPaperRoute may earn commission on qualifying purchases. Disclaimer | Advertise With Us
---
I have the viral Pinterest images formula that's worked for me, and I think it will help you boost your blog traffic too.
The Pro Pinterest Images Formula: How To Make Your Pins Go Viral
In this post, we will cover what a click-worthy pin is and how to make one. As well as what you should do to every blog post so that you are ready to capitalize on the viral traffic about to come in.
Give my Pinterest account @HerPaperRoute a follow, so you can stay in the loop with all of the free resources I share there on blogging, affiliate marketing and Pinterest marketing.
🫶 Want to Make More Money?🫶
Become a member of HerPaperRoute today and get a toolkit packed with resources to help you make that paper. All for FREE!
---
1. What Makes People Click On A Pin?
The most important measurement factor on Pinterest is clicks. It's not how many impressions you get, nor is it that number on your profile showing monthly views.
That monthly views metric is a tally of all the impressions for all pins you pin – NOT just your own. So that number isn't a relevant measure of your reach.
To measure your actual Pinterest reach, stick to reading the stats on your Pinterest analytics page, and your Google analytics. And focus on how many CLICKS you are getting on each pin. Not so much the impressions 😉
Why? Because clicks to your blog mean page views, and that's the whole point of using Pinterest. To drive traffic to your website.
So then, how do you make pins that people can't help but click? Alrighty tighty let's dig into this…
For example's sake, let's assume that you landed here on this page because you were on Pinterest, and clicked on this pin of mine:
Now, there are a few reasons that this pin may have caught your attention. It could be the big bold striking font that caught your eye. Maybe the chill color.
Or it could be the cheeky pin stats at the bottom, which you may have for a moment thought you were looking at your own pin displaying 23k impressions and looked at it to investigate.
Just to note, that really is a screenshot from one of my pins that had recently taken off, and the placement in this pin was totally intentional to make you do a double-take.
But none of those are the reasons why you clicked. Those design tactics may have made you pay attention, but they didn't make you click to leave Pinterest and read this blog post.
So why did you click?
You clicked because of the words. Specifically because of what the words did to you emotionally.
"The secret to making viral pins." Those words tugged on your curiosity-strings and whether consciously or subconsciously, you thought:
"Hey, I want to go viral on Pinterest, I need to know what that secret is."
Or "Yeah right, she doesn't know how to make viral pins. I'm going to read that to make sure I'm right."
Either way, I moved you to act, simply by appealing to your curiosity and intrigue. I provided you with an opportunity to learn something new today, or to verify what you already think you know.
Now that you are here, I'm going to deliver on what I promised in those words. Keep reading! And get your free copy of my Magic Pinerest Planner tool, here too.
2. What Makes A Viral Pin?
What makes some Pinterest images go viral and others not is determined by much more than what one looks like.
Knowing how to make viral pins means knowing how to intentionally position a pin for success the moment it appears on the platform.
The design is important, but it's more so the strategic planning that goes into how the pin is placed after its been designed is even more important.
What I'm talking about is Pinterest SEO, and Pinterest marketing.
For example, here is one of my old pins from 2017 still gets thousands of monthly impressions and drives thousands of page views to my blog on auto-pilot each month:
In the last 30 days this pin has been clicked 887 times, saved 203 times, and had 25,000 impressions.
…and I haven't done anything to it since the first time I pinned it strategically in 2017!
In fact, every time I pin a new pin now, it gets ranked where it's supposed to quite quickly, and often gets thousands of impressions and hundreds of saves. I know what you may be thinking "Oh she probably has a huge Pinterest account with hundreds of thousands of followers."
Nope.
I have less than 5500 followers at the time of writing this, but I have been making viral pins since I had less than 500 followers! Your follower count doesn't determine how successful your pin will be!
What determines a viral pin is a combination of:
Attractive design, easy-to-read fonts
Enticing call to action (and then delivering on your promise within the blog post)
Exposure: Get them in the right boards
Pinterest SEO, good keywords, & Intentional pinning
Ranking in Pinterest's category feeds
People repin and share things that make their feed look good/cool/smart. And in turn make them look good/cool/smart. Ugly pins with no enticing call-to-action simply won't cut it.
– HerPaperRoute
3. SEO, Keywords, Intentionally Pinning
Going viral on Pinterest may seem like something that happens at random (and for some that may be the case), but why wait just hoping a pin might go viral?
When you can make it go viral by intentionally setting it up to do so.
There are intentional techniques you can utilize to make a pin go viral. If you have the desire to learn about Pinterest SEO, listen, up, ma!
Pinterest is one big search engine, and how it decides to display pins and who it shows them to depends on keywords. Keywords are any words or phrases that describe your pin and the blog post it represents.
A good keyword describes both while also being keywords that other people are searching for.
You may have clicked my pin in your feed because it appealed to you, but the fact that Pinterest displayed it to you in the first place is because:
1. The pin had keywords that explained what its about.
2. The keywords made it rank in certain categories.
3. These keywords and categories related to other things you've pinned / shown interest in the past, and Pinterest remembered this.
So Pinterest thought to show my pin to you, as judging by your activity (and the activity of who you follow) they thought you might like it.
How nice, huh?
4. Creating Pinterest Images That Go Viral: The Design Elements
You don't have to have a degree in design to be able to create viral-worthy images. With free online editing tools like Canva you can create every design element for your blog yourself.
Using high-quality stock photos is the first step in creating a viral pin. Here is a list of 36 websites that offer free, styled stock photos.
I recommend you invest in a good styled stock photo membership, too. All of these are fantastic resources for high quality and affordable styled stock photo memberships:
If you need some help designing pins, check out these pre-made Pin Templates which you can just add your info into.
5. Viral Pinterest Images Branding Quick Tips
Select 2-4 colors that complement each other, and use them consistently in your first set of pins
Choose 1-2 fonts and stick with them consistently
Use bold, easy to read fonts and limit your use of script fonts to just 1 word
Make sure your branding is easy to read – the simpler the better
600x900px is the current size recommendation. Longer is good too!
Then following this guideline, create a second and third set of pins for the same blog posts but use completely different colors and fonts than your first set. Having a mix of different looking pins will help protect your account from being suspended for having too many similar-looking pins.
6. Viral Pinterest Images Need Good SEO File Names
Once you have designed your pin, make sure to always save it with a file name full of strong keywords that make sense for SEO.
For example, this is a good SEO file name: How-To-Make-Vegetarian -Pumpkin-Curry.jpg
But this is not a good SEO file name: IMG-0098.jpg
7. Pinterest Images Need A Good SEO Description, And Proper Description & Pin ID Too
Once you have created your high-quality pin, and saved it with a strong SEO file name, its time to upload it to your blog post. When you upload it you will want to fill the alt tag and description with your keywords as well.
Here's how to embed keywords in your pins via your WordPress dashboard. – Plus you'll get to watch my over-the-shoulder demo of how I use Tailwind to automate my pinning efforts.
But adding keywords to your image alt tag is not the ONLY place to add keywords. The alt tag should be mainly for just describing the image, so Google can read it. You should also embed a full Pinterest description in your pin that is filled with keywords and hashtags – and this is a SEPARATE area than the alt text.
To do this, you can either a) enter the code manually to each image individually or b) simply use Social Pug (Grow by Mediavine) or Tasty Pins. Each of those plugins gives you the ability to insert a proper pin description without altering your alt tag.
To illustrate, here is what your image library options will look like if you use Social Pug. You will get these additional options: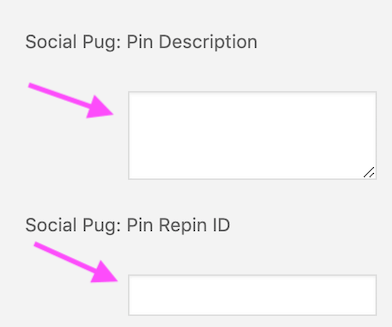 You can enter a pin description that will be auto-populated whenever anyone pins that image
You can enter your pin ID number, so that only repins are created when pinned
You can choose whether an image can be pinned or not.
There are many other features of this handy plugin, including hiding pins in posts, creating 'Pin It' buttons and more.
The next important thing is embedding your Pin ID number.
What Is A Pin ID Number?
Every pin is assigned a number, called a pin ID. The pin ID number is found in the URL of your pin. For example:
You would just copy those numbers and paste it into the pin ID section of Social Pug. This way, when someone pins your post, Pinterest will know that its a repin of that image, and won't create a new pin each time it gets pinned.
Having the pin ID embedded will just create a repin, as per Pinterest's recommendations.
The next step is to pin your Pinterest images to your most relevant board. 'Relevant' means that the board you pin it to matches what the pin and blog post are about. You will want to make sure that the titles and descriptions of the boards make SEO-sense for your pin and blog post.
I also recommend that if you are serious about becoming a Pinterest pro, you read PinTest Playbook by PotPieGirl.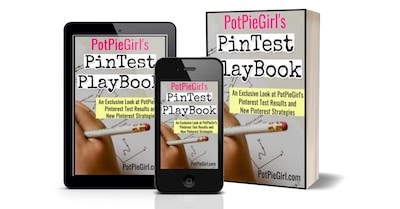 Every blogger needs to read the PinTest Playbook!
Pinterest SEO – How To Pin Like A Pro
You want to pin to relevant boards. Boards that have the right keywords to help you rank in Pinterest search results.
Basically, you don't want your pin about vegetarian pumpkin curry landing in a board about Sailor Moon. Because it's unrelated.
You want that curry pin to be in relevant boards about food, so that Pinterest can categorize it correctly and show it in search results correctly.
But even more importantly, you need to tell Pinterest what your pin is about so that they can list it in their own category feeds correctly.
This is really the biggest step in what makes a viral pin. The category feeds!
8. Pinterest Category Feeds
Pinning your images strategically so that you 'tell' Pinterest how to categorize them and correctly show them in their category feeds is crucial if you want to go viral.
I explain in detail how to do this in my Pinterest Marketing Course. It's a game-changer!
If you haven't developed a strong marketing campaign for your business and blog with the strategic use of Pinterest as a marketing tool yet… you need this course!
WHAT YOU WILL LEARN
How To Develop A Professional Pinterest Strategy
Pinterest SEO & How To Do Pinterest Keyword Research
How To Create Viral Pins
How To Rank In Pinterest's Topic Feeds
Tailwind Training
…and much more!
9. The Viral Pin Formula
In the video below I share some tips on what makes a pin that people love to share:
What To Do Once Your Pin Has Gone Viral
Once your pin goes viral, it starts sending a wave of traffic to your blog (or whatever link you've attached to the pin). This flood of traffic is what's called viral traffic.
You will want to capitalize on this traffic, so it's best to be prepared BEFORE it happens. Here's how.
Have your email funnel ready to capture new subscribers.
Don't expect to convert viral Pinterest traffic to buy your products right then and there. They likely landed there without knowing who you are. So you need to warm them up to you first. Get them on your email list by giving them an irresistible opt-in freebie right away.
Make sure that you have opt-in forms on every blog post.
As well as a fantastic opt-in freebie! Your freebie should be something specific to your niche and even better if it is specifically related to the content of the page someone has landed on.
To learn how to craft the perfect opt-in freebies and grow your list, read these 6 crucial email marketing basics for bloggers.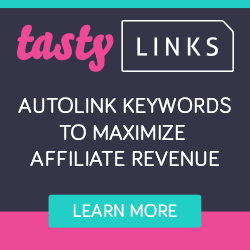 Have ads set up on all pages
Place PPC (pay-per-click) ads from Google Adsense on your blog so you can earn some passive advertising money from your traffic. Once you have 50k monthly sessions you can apply to Mediavine, which pay higher.
You can also earn money from having advertisers pay you a flat rate to feature their ads and products on your site directly.
Such as a banner/sidebar ads and sponsored posts. Here's how to get started working with brands.
Create a video to accompany your blog post
Having videos on your page helps increase the amount of time that people spend on the page. Which is great for SEO.
If your pins are sending viral traffic to your Youtube videos, you may have a shot at getting into YouTube's partner program, too. 
Have affiliate links on the page
This is my favorite way to make money blogging! Affiliate marketing is when you earn a commission for referring the sale of a brand's products.
Your site visitors coming to your blog from a viral pin may not know who you are, so may not be ready to buy your products and services yet.
But they probably will buy products from well-known brands you recommend. So that's why you should have your blog set up for affiliate marketing from day one. You don't want to wait and then try to catch up later.
As mentioned, you want to be prepared before the viral traffic starts flooding in! So be sure to read these resources:
The Secret To Making Viral Pins – Conclusion
I hope this guide to creating viral pins has been helpful. Let's stay in touch! Follow me on Pinterest @HerPaperRoute.
Don't forget to scoop up your Tailwind free trial, and start using Tailwind Tribes. Tailwind Tribes is also super helpful for building traffic. I have a tribe here you can join, it's full of hundreds of awesome bloggers!
For my full Pinterest Marketing training, enroll in the epic Pinterest Marketing Course that I offer. Because you stuck around and read this post, I'm giving you $20 off enrollment today!
More Pinterest Marketing Tips
Free Pinterest Marketing Book!
Before we begin, download your free copy of my Viral Pin Formula ebook which shows you how I design viral pins using free online tools.
This ebook is available to members of HerPaperRoute, free of charge as part of the HerPaperRoute Profitable Blog Toolkit. If you aren't yet a member, you can sign up here.
Pin this!