Creative Ideas To Make Money Online As A Woman
I'm so happy to share these creative ideas to make money online as a woman with you today.
Thanks to the internet, making money online is easier now than ever. Who doesn't love working from anywhere? I know I do.
So whether you are a student, a stay-at-home mom, or a woman just looking to add more cash to her bank account, there are many opportunities for you.
The best part is you can start making money from the ideas on this list regardless of your location.
---
As an affiliate partner of various brands and sponsored content, HerPaperRoute may earn commission on qualifying purchases. Disclaimer | Advertise With Us
---
And of course – guys can use these tips to make money online too. We love our male comrades.
But because women's voices are often left out of the conversation in tech and ai, we wanted to create space for women to feel confident to step into tech, too.
So, here are some excellent ways to make money online as a woman.
🫶 Want to Make More Money?🫶
Become a member of HerPaperRoute today and get a toolkit packed with resources to help you make that paper. All for FREE!
---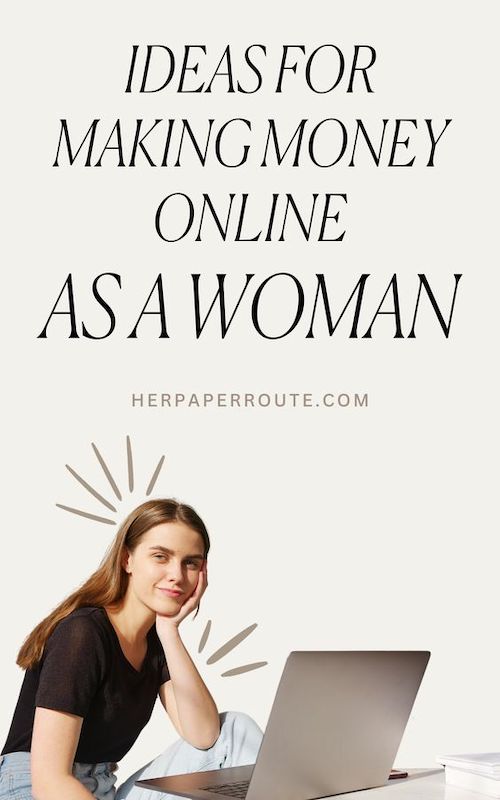 I've compiled a list of some of the best and most creative ways women can use their skills and talents to generate income from home.
Here are some ideas.
1. Offer freelance Services
Freelancing is the MVP of working for yourself because you can pick and choose what area you like to focus on based on your skills.
And, you can charge whatever rates you want.
There are different websites where you can find freelance work, Fiverr and Upwork are my favorites.
You can even create your own website to showcase your skills and then promote your services on social media.
Plus, it is easy to get started. All you need to do is sign up, offer a skill you are good at, and start making money immediately.
You can decide what freelance service you want to offer based on your skills, from social media management to writing, graphic design, and many more.
The opportunities are endless.
2. Freelance Writing
I decided to cover freelance writing in more detail because this is one of the easiest and in-demand freelance work you can start.
What is Freelance Writing?
It is simply getting paid to write content for clients. For example, you can get paid to write blog posts, articles, copywriting, etc.
As a freelance writer, you can charge per project or hour depending on what you agree with the client, and you can make from $10 – $50 per hour.
This also depends on the level of expertise.
How to Get Started with Freelance Writing?
The first step towards becoming a successful freelance writer is building up your portfolio of work samples so potential clients can see what quality they will get if they hire you.
A few ways to build your portfolio as a newbie is by offering free services such as guest blogging or taking on low-paying projects until you have enough experience to charge higher rates.
Tips for Making Money with Freelance Writing
After you have built a good portfolio as a freelance writer, you can increase your income by
Negotiating higher fees,
Diversifying into different types of content,
Specializing in specific niches,
Offering retainers to make recurring revenue
Create digital products such as ebooks or courses.
The key is to focus on what works for you the most and turn your skills into good income.
3. Affiliate Marketing
This is one of my favorite ways to make money online.
Affiliate marketing is when you recommend other people's products and services and you get paid a percentage of sales.
As an affiliate, you'll be paid when a sale is made, so you don't need to own your products.
All you have to do is recommend someone else's products to your audience, and when they buy, you'll be paid a commission.
Here are some simple steps to get started with affiliate marketing
Join an affiliate network (my favorites are ShareASale and Awin).
Pick some products to promote in your niche (from high-paying affiliate programs).
Recommend the products you use and love to your audience, through your blog post or social media.
Drive traffic to your affiliate links and get paid a commission when a sale is made.
Tips for Making Money with Affiliate Marketing?
To make money through affiliate marketing, you must build trust with your audience; be authentic and honest.
Focus on creating quality content and be strategic with placing your affiliate links because just slapping links on your articles and expecting a sale will certainly not get you anywhere.
Focus on targeting the right audience. You must ensure that the product you recommend is relevant to your target audience.
Join several affiliate programs to maximize your affiliate income.
Read this: Affiliate Marketing mistakes to avoid when you're a No0b.
4. Sell photos online
I am not great at taking pictures. I am that friend that will take 20 blurred pictures of you…but hey, we can't all be good at everything.
So if photography is your jam, you can make good money from it.
Believe it or not, photography is an excellent way to make money online, even with phones.
You can take photos and sell them on websites like Shutterstock and iStockphoto or go all out and open your photography studio.
My lead photographer charges $200 per hour, and I gladly pay because the pictures come out so lovely.
The best part of selling pictures online is that you get to do something you love and make money while doing it.
So if you're creative, this could be an excellent option for making money online as a woman.
Selling photos online can be an enjoyable way to make money from your creativity and passion.
So go ahead and set up a photography business or sell your photos on platforms like Shutterstock and iStockphoto.
You can also start with your friends and family, take some photos for free to build up your portfolio, and start charging a premium fee because customers are usually willing to pay more for quality results.
Launching a successful photography business is achievable.
5. Sell Digital Printables on Etsy
This is one fantastic way to make passive income online, and it is easy, especially if you are creative.
Starting on Etsy is also very straightforward.
All you have to do is create the printables on canva, open an Etsy store, and upload it on Etsy so customers can download them instantly after purchase.
It is as simple as creating printables and uploading them to your Etsy store, then letting Etsy take care of the rest.
Selling digital printables on Etsy is the best option if you don't want to commit too much time but still make some money online.
Here are a few ideas for printables you can make
Quote Art Printables
Wall Art Printables
Coloring Pages
Digital Posters
Journaling Pages
Calendars
You can create unique printables for holidays or occasions such as Christmas, birthdays, weddings, etc.
Plus, with Etsy, you don't have to worry about marketing or advertising, as the platform does this automatically.
If you put a little effort into creating attractive, unique printables, you can make serious money online!
The unit price for these printables may seem like a little, but it can really add up over time.
Imagine making $1000 – $3000 passively.
Yup, it is possible.
Take it up a notch and add digital and physical products: stickers, wedding invitations, wall art designs, and more.
6. Dropshipping
If you love to buy and sell, this is for you.
Dropshipping is another fantastic way to make money online; you only need a website and a supplier.
The best part is you won't need to keep any inventory.
How does dropshipping work?
To make money through dropshipping, you simply partner with an existing manufacturer or dropship supplier and list their products for sale on your website or store.
When someone makes an order, the supplier packs and ships the order directly to the customer on your behalf.
Here are the simple steps to make money through drop shipping
Decide on what you want to sell
Source manufacturers of the products
Create an online store
Decide how much you want to sell your products
Put up product pictures and descriptions on your online store.
Remember to add your profit to the manufacturer's price, so when an order is made, the manufacturer delivers the product directly to the buyer, and you get the profit.
Easy peasy.
If you don't know where to start, explore websites Aliexpress which offer a wide variety of products you can choose from, so you can easily find something that fits your niche.
7. Create an online course
Creating an online course is a fantastic passive income stream, and I am all for making money while you sleep.
The awesome thing about creating an online course is you can create courses on any topic, from cooking to digital marketing, blogging to photography, and more.
Start with a simple course on topics you are knowledgeable and passionate about, and when you are done, an online course will continue to bring in passive income for years!
Get a free copy of my best-selling course plan: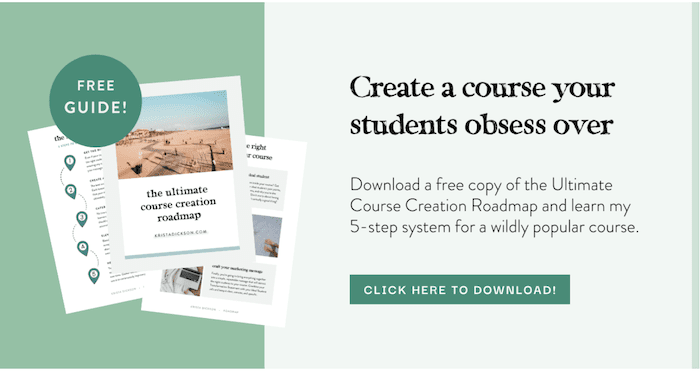 8. Start a Blog
Yes, my fave way to make money online is blogging, for so many reasons.
You can make a steady income through blogging, but with this method of making money online, you need to be ready to put in the work.
Making money through blogging takes time, effort, dedication, passion, and hard work.
But it can be very fulfilling.
Many factors affect how much and how fast you can make money through blogging.
For example, if your blog is in a competitive niche, you may need to create more content and use specific strategies to get ahead of the competition.
Regardless, blogging is still one of the best ways to make money online, and you can blog from anywhere in the world.
Here are the simple steps to make money through Blogging
If you put in a consistent effort, the sky is really the limit to how much you can make through blogging.
9. Be a Virtual Assistant
Offering your services as a virtual assistant is another great way to make money online.
The best part about this option is you get to pick your focus and hours.
As a virtual assistant, you can do anything from providing customer service, managing social media accounts, data entry, graphic design, answering emails, managing listings on Shopify, and so much more.
A fantastic way to start is by offering your services on sites like Fiverr and Upwork or looking for clients directly.
No matter which route you choose, the opportunities are endless.
A virtual assistant is an excellent idea for a woman because we have superpowers; we multitask and learn new skills quickly.
So what skills do you need to work as a virtual assistant?
This depends on what services you intend to offer.
Generally, you'll need good communication skills, experience with different software programs, and the ability to keep up with the changing needs of your clients.
If you have all these skills and more, you could soon earn serious money as a virtual assistant.
Virtual assistants are highly sought after because businesses are constantly looking for skilled virtual assistants to which they can outsource tasks, so why not take advantage of the opportunity and make some money?
All you need is an internet connection and your laptop to start.
10. Manage social media accounts
We are all on social media anyways, so why not get paid for it?
Especially if you are good at posting on socials, making creative videos, and driving engagement?
You can make money as a social media manager by managing social media accounts for others.
As a social media manager, you will create content to schedule posts, interact with followers, and create content for social media.
If you have the skills for this and enjoy it, then making money is a good idea.
Social media managers earn anywhere from $1200 to $3000 monthly, depending on the client base and hours worked.
A quick way to start is by offering your services on freelance sites or contacting small businesses on social media.
Once you have a few clients and good reviews, you can increase your rates.
11. Selling Digital Products
Digital products are products that can be downloaded digitally, with no need for a physical copy.
This includes ebooks, web design, online courses, stock photography, audio files, video tutorials, and more.
With digital products, you don't need to keep any physical inventory or shipping costs, making it an attractive option to make money from the comfort of your home.
How To Get Started Selling Digital Products And Services?
Research your target market to create a product that meets their needs.
Consider how much time and effort will go into creating the product and setting up payment processing systems so customers can easily purchase your goods.
Finally, create marketing materials such as website copywriting or promotional videos to market your product.
Tips For Making Money Selling Digital Products And Services
Ensure your product is of good quality to build a loyal customer base and have repeat customers.
Use social media to promote your product and get the word out there.
Create an email list and send discounts, coupons, and other promotions to increase sales.
Ensure you have good customer service so customers can contact you quickly with any questions or issues.
Be open to feedback from your customers to improve your product and services.
12. Online Coaching and Consulting
Coaching is another creative idea to make money online as a woman.
The beauty of online coaching and consulting is that you can work from anywhere with an internet connection and make money.
Online coaching could be anything from teaching people how to do something you've mastered, or helping them get organized for school or work to providing personal life advice on relationships and career decisions.
As an online coach and consultant, you will offer tailored advice and support to assist your clients in achieving their desired objectives.
It could be anything! Some examples: launching or expanding a business, financial freedom, getting fit, or reaching success in other areas of life.
You'll provide clients with personalized advice on developing their businesses or personal lives.
marketing strategies,
goal setting,
time management skills,
financial planning tips,
career guidance,
productivity hacks, and more.
All this will be tailored to the individual's needs.
To get started, you can offer free 30-minute consultations or create a series of video tutorials and offer them for sale.
You can also use webinars, podcasts, and social media to reach potential clients.
Once you start getting paying customers, you can scale up your services by offering group coaching, virtual workshops, and one-on-one sessions.
Tips for Making Money with Online Coaching and Consulting
Once established, you can increase your income as an online coach by offering different pricing structures.
For example, you could charge by the hour per session, offer group sessions and webinars/workshops, charge flat rates, create packages, and more.
I offer business consultation services in a few ways.
My clients pay me:
13. Creating & Monetizing YouTube Videos
YouTube ads are a great way to make money online as a woman because you don't need thousands of subscribers to start making a decent income.
With a bit of effort, anyone can start a youtube channel and make money from Youtube ads.
Tips for Making Money with YouTube Videos
Choose topics that you're passionate about and create high-quality videos that provide value to your viewers.
Create video content that is entertaining and engaging.
Promote your videos on social media channels to increase the reach of your videos.
Engage with your audience and respond to comments to build trust with viewers.
Research popular keywords related to your topic and optimize titles, descriptions, and clickable links in each video.
Collaborate with other YouTubers to cross-promote content and increase viewers.
Keep an eye on upcoming trends and be the first to make videos about those topics.
How to make money online as a woman – Conclusion
Making money as a woman is certainly possible, and many great options are available.
From freelancing to blogging to YouTube videos, there are plenty of ways to make money online.
Start by finding something that interests you, preferably something you have the skillset for.
Then it's all about marketing yourself, providing quality services or products, and engaging with your customers.
Whatever you choose, you must be ready to work to make it successful.
The great thing about these ideas is combining one or two and making money from multiple streams.
Some of these ideas require more time than others, and some may require more money to start, but most are low-cost and can be implemented quickly.
If you're looking for ways to make money online as a woman, any of these ideas can help you get started.
Which of these ideas will you be trying out? Let me know in the comments below.