12 Simple Techniques Guaranteed to Increase Blog Traffic In 2024
Learning how to increase blog traffic and get to the first page of Google is at the forefront of many entrepreneurs' minds.
If you have just started blogging, you may have no idea about how to get blog traffic, keyword research, or blog ranking.
If you don't have a blog traffic strategy in place, you'll likely not get many readers fast.
No matter how good a writer you are, if no one knows you've written a post, you won't get any traffic.
---
As an affiliate partner of various brands and sponsored content, HerPaperRoute may earn commission on qualifying purchases. Disclaimer | Advertise With Us
---
Publishing great blog content is important. But if you think your blog will miraculously get readers only because you wrote good content – how wrong you are!
Sorry – Posting on social media alone isn't going to cut it! But don't worry, we've all been there. And you can increase your blog traffic now.
So how do you increase blog traffic? Read on!
🫶 Want to Make More Money?🫶
Become a member of HerPaperRoute today and get a toolkit packed with resources to help you make that paper. All for FREE!
---
12 Simple Techniques Guaranteed to Increase Blog Traffic In 2024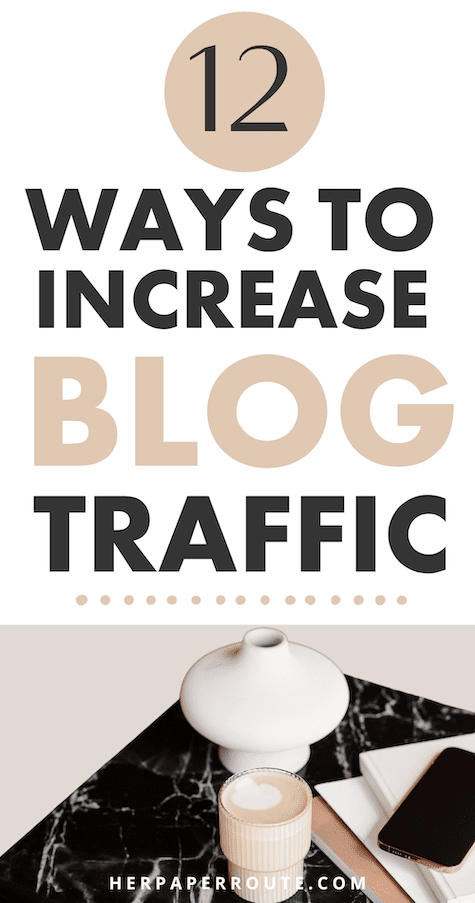 Being a new blogger is tough. 😫
If you're like most newbie bloggers you've probably read tons of articles on blog traffic strategy that gave you nothing useable.
And worse, they only end up being a sales pitch for buying a course!
This is not one of those articles, friend. In fact, the SEO course that I created, I give away for free!
Now, I've decided to write you an epic article on the multiple ways you can use to increase blog traffic.
Some of these blog traffic-growth tips are ones I've used to grow my home decor niche site to 70,000 monthly page views.
Others are new traffic tips that I am currently developing and testing out myself.
Plus, I've included some unusual blog traffic tips that you may not have heard about.
First Things First – Check Your Website SEO, Usability, and Load Speed
The first place to start when you want to increase your blog traffic is by making sure your website is SEO (Search Engine Optimisation) friendly, it's easy to use and has a fast load speed.
Don't let all those words freak you out – I'll show you how to check all this in an easy-to-understand way.
Site speed and usability is important because, if your website isn't friendly for visitors, they won't stay long on your blog.
What's more, a slow website is less likely to get ranked by Google in search results, as Google only wants to recommend the best websites.
You can check your blog's speed performance for free with Google's PageSpeed Insights Tool.
It will show you how your website scores, and tell you what needs to be fixed. So you can see what you need to work on.
When I tested my homepage, I find that it has a pretty good score above 91 in SEO, Accessibility and Best Practices.
But "Performance' only got a score of 84.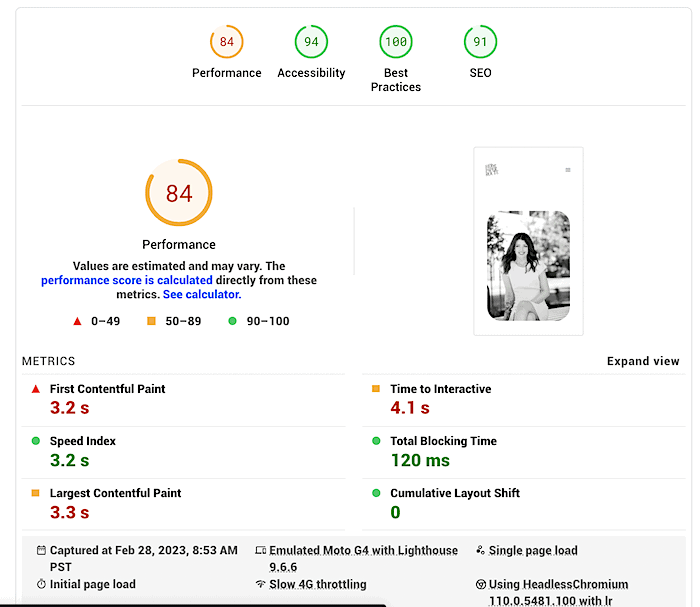 By scrolling down to see what is causing the lower score, I was able to see that some large images and other errors were the culprits.
I made the fixes in a matter of minutes.
Here are some more website speed tips you will find helpful.
Now let's look at simple techniques guaranteed to increase your blog traffic.
1. Buy Websites With Traffic And Redirect It
Buying websites with traffic and redirecting it to my main sites is my #1 favorite way to boost traffic!
When you acquire a website for the purpose of growing another site, you get to take over its SERP rankings.
I've been buying up many websites that get good traffic this past year to implement this strategy to grow a few of my "main" sites.
Just look at the growth my tech site has had this season, since implementing this strategy in March: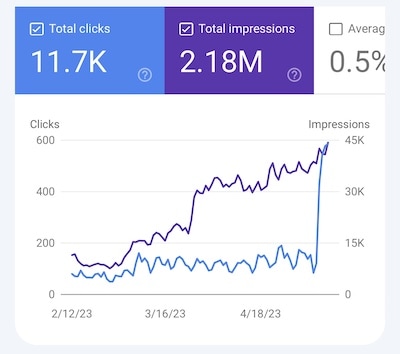 Now that the 301 redirect links are in place, I'm doubling my traffic each week: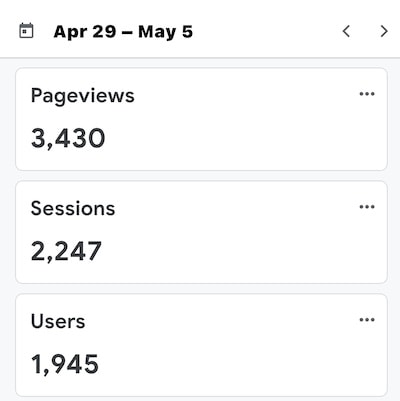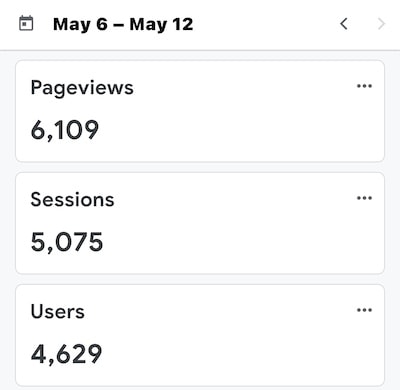 How it works:
You buy a website that gets traffic
Move all the blog posts to your main site (the one you want to grow, preferably in the same niche as the one you bought)
301 redirect all the old links to your main site
Edit the blog posts to include interlinks on the main site domain, and create some interlinking from high PA blog posts on your main site, to some of these newly moved-in posts (I use this tool which makes it super easy)
Manually add the new page links to Search Console for the main site, using Search Console's 'request indexing' feature. This step is optional and may or may not actually speed up Google's indexing, but it doesn't hurt.
I'm using this strategy on a few of the sites in my portfolio, including a new lifestyle blog too.
Check out the drastic climb that site is having now as a result: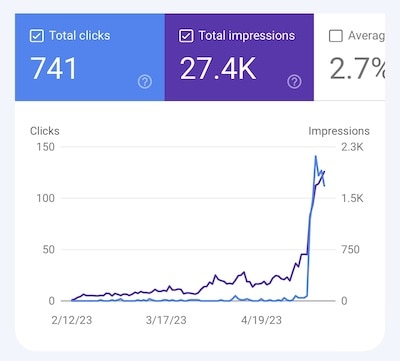 I'm noticing that another benefit of this strategy is that it's boosting the domain authority of my main sites as well.
Get on my email list to learn more about this buy-websites-to-redirect traffic strategy, and to be the first to know when we have new website listings available to purchase.
Also, bookmark this great roundup for the best places to buy websites.
2. Answer Questions on Quora
Quora is a leading question-and-answer site that drives huge amounts of referral traffic.
It is seriously underused by businesses, who don't realize its power.
People go on Quora to ask questions they need answers to. If you're on there with the right answers, you can build your authority in a niche and drive people to your blog.
Quora has spaces that are like niche groups. You can join these spaces and share your blog articles which could get seen by potentially hundreds of thousands of people.
Initially, your articles will have to be accepted by a moderator.
But, as you spend more time on Quora building up your authority, you may get asked to be a contributor in these spaces.
This means you'll then have a ready-made audience, who are interested in what you're writing about to show your content too.
3. Write Guest Posts on High DA Sites
If you want to increase blog traffic, guest posting should be a strategy you look into.
Guest posting is where you write an article on a high DA (Domain Authority) website and get a link back to your website and/or social media accounts.
The more links you get back to your website, the more your website ranking will grow, thus building your traffic from Google.
Authority websites have huge amounts of traffic and if you can get a small fraction of that back to your website you can see how powerful this can be.
You will have to take time pitching your guest post ideas to high DA websites. It can take a while to get your ideas accepted, but don't get disheartened when you get ignored.
Keep plugging away and you will get responses.
You can check the domain authority of your website and others by downloading the Moz extension in Google Chrome.
My advice is to start applying to DA 20 websites for guest posts. Then work your way up DA 30, 40 and 50+.
This allows you to get practice writing for smaller websites which will give you some credibility.
Then you can apply for the higher DA websites which are obviously harder to get guest posts on.
4. Comment on CommentLuv Blog Posts
Blog commenting is another strategy to get links back to your website. Many websites use a plugin called CommentLuv which incentivizes good comments and gives dofollow links.
The more dofollow links you have back to your website; the more Google will see your website as trustworthy, boosting your page rank.
A nofollow link doesn't carry as much favor with Google and will not boost your website rank.
I give an explanation of dofollow and nofollow links here.
CommentLuv blogs allow you to add your website link when you post a comment and will give you a dofollow link back to your website.
This is why commenting on websites with the CommentLuv plugin is worthwhile.
Obviously, take time to read articles and write a thoughtful comment. If you just post 'great article' on every comment box, you will soon get seen as a spammer and only out for personal gain.
5. Utilize Pinterest As A Free Traffic Tool
Pinterest is a search engine as well as a shopping app, with over 470 million monthly active users!
It falls into the fourth spot behind Facebook, Instagram and YouTube, but it's the best platform for bloggers if you know how to use it.
After lots of research on Pinterest strategies, here are my best tips for getting results;
Set up a Pinterest business account. This will give you access to analytics, rich pins and make you look like a professional blogger (even if you don't feel like one yet!)
Build at least 10 boards including one containing your 'best blog posts'. Use keywords in the description of your boards eg; phrases people will search for in your niche
Design stunning pins. Create 3-5 for each blog post so you can track which one gets the most clicks. Remember, Pinterest is visual so you need to make your pins stand out with color and an interesting title. Studies show that red/pink/purple colors get more clickthroughs on Pinterest.
Use Tailwind to schedule your pins and join tribes. If you've been on Pinterest for a while I'm sure you know about Tailwind. This awesome software allows you to schedule all your pins at once, keeping you more organized. Get your one-month free trial here. Once inside you can request to join tribes and share your pins. Experiment with these as some you'll get your pins shared and some you won't
Share 50% your pins and 50% others in your niche. You want to make your Pinterest account a high-quality resource for your followers. Sharing other peoples content will make it likely those people come back and share your content as well
Pin consistently 5-30 a day! This is another reason sharing other people's content is a good idea. When you up your pinning to 30 a day, it's likely you won't have enough of your own content to share. Also, show up to do some manual pinning occasionally. Pinterest wants users to engage on the platform
Read: 78 Epic Pinterest Marketing Tips To Send Traffic To Your Blog For Free
6. Link Out to Influencers in Your Niche and Message Them
If you mention another blogger in your article, reach out to them and let them know.
Linking out to an influencer in a blog post is a great way to build up a relationship and show your support.
Mentioning someone in your article and adding a link to their website, will give them link juice and you may even get a mention on their social media.
The more you do this, you may even get a link to you from their high DA site or be asked to contribute.
7. Share Posts on Flipboard
Flipboard is a content curation site allowing you to share your own articles and collect other articles from around the internet.
When you share other people's content, they can do the same for you meaning your blog posts will get more exposure. This, in turn, will help to increase blog traffic.
8. Create Your Own Lead Magnet
We all love a freebie which is why giving valuable information away can seriously help increase blog traffic.
A lead magnet should be easily consumable, helpful and high value.
Have a think about what people struggle with in your niche and maybe you could turn that into a short EBook, a cheat sheet, an email series or mini video tutorial.
Once you have your lead magnet created, display it on your website, give it away to people you talk to and advertise it on your social media.
Create a funnel opt-in so you capture an email address as well.
This way you can follow up with your community later and further promote content on your blog.
Read: The dos and don'ts of creating a lead magnet that converts.
9. Write Interesting Post Titles
A catchy title will make the difference between someone clicking on your post or whether they scroll on by.
Good titles should be intriguing, actionable and even maybe a little shocking. They should make the scroller want to know more.
Try to include one or two relevant keywords to help you rank in searches.
10. Re-Write Popular Content in Your Niche
If an article is popular, it is usually popular for a reason – people are interested in the subject matter.
Take a look at other influencers in your niche and see which of their articles get shared a lot.
Could you write your version of that article with your own twist? If a subject got that writer a lot of readers, it will likely increase blog traffic for you.
Other ways to find trending, viral content for you to re-write is by using;
Buzzfeed
Google trends
Medium
Feedly
Pocket
Quora
Social Pilot
Ahrefs Content Explorer
Reddit
Read: The ultimate guide to make money with affiliate marketing on Pinterest (even without a blog).
11. Make Sure Your Posts Are SEO Optimised
When you optimize your blog posts for SEO (Search Engine Optimisation), you are increasing the chance of your website being found by people searching for terms in Google.
High-quality SEO-optimised blog posts, help Google see that your website has the answer to people's questions.
Here's how you can optimize your blog posts for SEO:
Incorporate 1-2 long-tail keywords in your post. Target lower competition keywords as a new blogger as you're more likely to rank for these. Neil Patel's free Ubersuggest is great for searching for keywords and analyzing the competition
Make sure your blog is responsive on mobile and desktop
Add in a meta description, alt tags to your images and have at least 1 internal link. The Yoast plugin is great to help with all this
Have images and videos in your content where possible. Videos increase engagement and keep people on your website longer
Structure the post well and use headers. Google values well-structured content and likes to see H1, H2 and H3 tags keeping your post organised
Read: Blog post checklist; keyword research, SEO, headline (things to do before publishing every blog post)
12. Share Your Articles on Viral Content Bee
This little gem of a platform I came across after reading another blogger's article on Pinterest. And what a find it was!
Formerly Viral Content Buzz, this is a free social media platform where you can put your content in front of influencers and everyday people for them to share.
It has moderators that check every article submitted for quality control, so you can be rest assured only great articles are on there to share.
Viral Content Bee works on a credit system. This makes sure everyone actually has to share articles to be able to share their own.
If you've ever joined a share group before on Facebook or Twitter, you'll know there are sometimes people who don't share which is annoying.
VCB is policed and knows who is sharing and who isn't.
VCB supports shares on Pinterest, Twitter, LinkedIn, Facebook, Mix, Tumblr and Flipboard.
You can sign up for free on the Viral Content Bee homepage. Next, connect your social accounts and select your groups of interest so you see content in your niche.
You'll start off with 10 free credits so you can post your article to get shares from other users.
Then spend about 10 minutes each day sharing other users content so you build up more credits.
Each time you get 10 more credits, share another of your articles.
To increase shares by influencers with large followings, you can buy more credits to add to a project.
13. Instagram Stories
Are you using the link sticker in your IG Stories?
You should! It's a great way to direct IG traffic to your website.
How to Increase Blog Traffic – Conclusion
As you can see there are many ways to increase blog traffic.
Have you tried any of the strategies mentioned? Did I miss any good ideas off the list?
Gaining traffic to your blog, especially if it's new does take effort and time. I know because I'm going through the process.
But, you are learning every day. Consistency and persistence is key. Like most things in life!
It can be overwhelming with so much to do as a new blogger. My advice is to implement the techniques above step by step.
Don't worry if you can't do everything at once.
Focus on one area and master it. Then move on to the next.
Now go get some traffic!
–
---