Business Headshots: 13 Tips For Getting The Best Possible Shot
Business headshots. It's one of the most important marketing tools for a business professional, and it's amazing how many women avoid this to save a buck or because they hate getting their photo taken.
Ladies, it's time to take your business to the next level. Since so much of your business is online now, it is critical you get a good image on all of your available profiles. If your business headshot is bad, you look bad.
13 Tips For Getting The Best Possible Business Headshots
Written by guest writer and photographer Chelsea Adams
Your headshot is today's business card.
---
As an affiliate partner of various brands and sponsored content, HerPaperRoute may earn commission on qualifying purchases. Disclaimer | Advertise With Us
---
You want to be seen as a pro, not an amateur, so the way you present yourself in your picture is everything. If you want people to take you seriously, you must have a good, high quality, killer headshot.
Not an iPhone pic, not an old Facebook bio selfie of you outside with your kids, and not a high school yearbook photo from 1997. Save those for on your grandma's fridge.
When people see your social media and website profile, your email signature line, or your LinkedIn profile, you want them to say "I want to work with (buy from/follow/etc.) her."
🫶 Want to Make More Money?🫶
Become a member of HerPaperRoute today and get a toolkit packed with resources to help you make that paper. All for FREE!
---
…Not: "uhhhh what is…that?"
Here are 13 tips for getting the best possible business headshot.
Pin This:
Go Pro
Spend the money. It's worth it.
Go to a professional, who is trained, understands lighting, and takes headshots for a living.
Don't use some friend who happens to have a decent camera who "sorta knows a little about photography."
Save those pictures for Instagram, and leave the business headshots to the pros.
When you're looking for a photographer to shoot your business headshots, don't just go with the first one you come across.
Instead, take a look at the portfolios of a few different options and contact the ones who have a style you'd like to emulate in your own images.
It's also a good idea to get comfortable with your photographer so you can look happy and relaxed in your photos.
So have a friendly conversation with them, ask them questions and be yourself when you go to meet with them.
There are literally hundreds of photographers available to choose from.
Closely look into their portfolio, follow their social media feeds and determine if their style matches the look you are going for.
Go For Personality Over Photoshop
Make sure your image looks awesome, but it still looks like you.
Most people like an attractive image, but don't want to be started when you show up for an interview looking 20 years older.
It's not about looking pretty, it's about representing your business, your personality, and your brand .
The business headshot should look like you on your very best day.
A little bit of photoshop is fine, but looking like a plastic 17-year-old doll when you are 47, isn't the look we are going for.
It's All About The Eyes
Your eyes are the window to the soul, or however that saying goes.
But really, you want to send a message with your eyes. They should, of course, be perfectly in focus, look alive, energized, and inviting.
I like to take pictures after I have asked a personal question or something semi-thought provoking.
Your face tells a story and creates emotion when people look at you, even in a still shot image.
Make your story great with eyes that reflect who you are.
A slight squint and strong piercing eyes will bring a picture to life and help it stand out in a pile of hundreds.
A good headshot photographer knows how to bring this out in you.

Pay Attention To Framing, Lighting, And Background
In general, a good headshot is chest-up with good lighting on your face. However, the social media world is opening up doors to all types of photos to use for your bio so don't box yourself in.
Decide ahead of time what your brand represents and communicate with your photographer about what kind of look you are going for.
Standard images for LinkedIn and business profiles are typically from the chest up.
Overall, the goal of your business headshot should be to put a face to your brand. This means that there isn't necessarily a right and wrong way to present yourself.
It simply depends on your brand image. For example, a lawyer might prefer a very professional image with a suit and plain background, while a creative business owner could be a bit more casual and fun with their headshot.
The Ultimate Entrepreneur & Blogger Toolkit
Natural Light vs. Studio
Some photographers do both, as both offer a very different look and feel.
Natural light gives a very real film-like look, which I generally prefer, however outdoor natural images are less formal so (again) decide what your brand represents and what type of image suits your overall goals.
Studio lighting tends to be a little more polished, especially with a white, grey or black backdrop.
Both can be wonderful. Decide what works with your goals and brand and let the photographer know ahead of time.
Another strategy could be to have your photographer meet you at your office or another location where you're especially comfortable.
Getting some images where you actually work could help them appear especially unique and authentic to your brand.
Clothing And Props
Keep it simple and classy, and follow the standard format. Professionalism and desperation both get you noticed, but which one do you prefer?
A simple, solid color shirt with a little texture that fits you well and matches your eyes should do the trick. No whites and no graphics or anything you think might distract from your face.
Only include props if they match your brand. In some cases, you might include some items that have something to do with your business, like a computer, desk or camera.
[adsense]
But again, make sure those items aren't distracting and only include them if they actually add something essential to the image.
You should also take care to present yourself in a positive light in terms of the way you dress. Again, this can vary depending on the brand.
But a good rule of thumb should be to consider how you'd want to present yourself to a new client and then dress accordingly.
Don't Go Crazy With The Makeup
Yes, lots can be done with retouching. There is no need to put on tons of makeup.
You want to look like yourself on your best day, and not look like you tried too hard.
One of the best business headshot tips is when styling your hair and makeup for photos, simple is best.
If you layer on tons of makeup, that caked-on foundation may show up in photos.
And for your hair, make sure to brush and style it, but don't worry about styling any fancy updos that won't necessarily show up in a single photo anyway.
Don't Get a Haircut Right Before
While it might seem like a good idea to get a fresh haircut right before you get new photos taken, experts actually advise against it.
Even for major events like weddings, photographers say that you should get a trim at least a week before so you can get used to the new length.
And if you're getting a totally new haircut, wait three weeks or more before getting photos taken so your hair can grow a bit and look more natural.
This also gives you the opportunity to make adjustments if you end up not loving the new do.
Keep A Mirror On Hand
It's also a good idea to keep a mirror with you so that you can quickly check your hair, makeup and clothing before you have your photo taken.
That way you won't have to wait to get your proofs back before realizing you have a stray hair standing up or a wrinkled collar.

Choose Timeless Over Trendy.
In terms of your clothing, hair and makeup, many professional photographers will advise you to stay away from ultra trendy items.
Even if you think that a particular hairstyle or patterned top will look great right now, it could make your photo look dated in just a year or two.
Relax And Loosen Up
No matter what style of photo you end up going for, good posture is essential since it exudes confidence and professionalism.
Simply sit with your back straight and your shoulders back while remaining relatively relaxed.
While posture is important, you don't want to look stiff and boring in your headshot.
Especially if you want your brand to seem fun, creative and/or unique, it may be beneficial for you to keep the atmosphere more relaxed and informal.
One way I encourage or recommend my clients do to help them relax and be themselves during a photoshoot is to bring a friend or co-worker to their shoot.
A friend can make jokes, lighten the mood and make everyone more relaxed and comfortable.
[adsense]
Sleep, Water And Food
Hello to the buzzword: selfcare.
Get a full night of sleep the night before, drink plenty of water throughout the day to keep your eyes bright and your skin clear.
Like all things related to selfcare, it not only affects your well-being it will improve the overall look and feel of your photos as well.
Get Multiple Shots With Different Poses
No matter what style of photo you're going for, you'll want to have plenty of options to choose from at the end.
Even if you're sure of the style, angle and backdrop for the photo, you should at least have a horizontal and vertical version so that it can fit with different mediums and publications.
We all have a side that looks a little better or an angle that is more flattering.
The more options you have, the more likely you will be to love your end result.
Get New Business Headshots Regularly
Finally, once you get your business headshots taken, you might find that they no longer represent your brand in the way you envisioned months and years down the road.
It is a good idea to have new business headshots taken regularly to reflect how you actually look and how you want your brand represented throughout the life of your business.
The more variety you show on your different marketing venues and in your different marketing and social media strategies the more opportunities your clients and potential clients have for getting to know, like and trust you.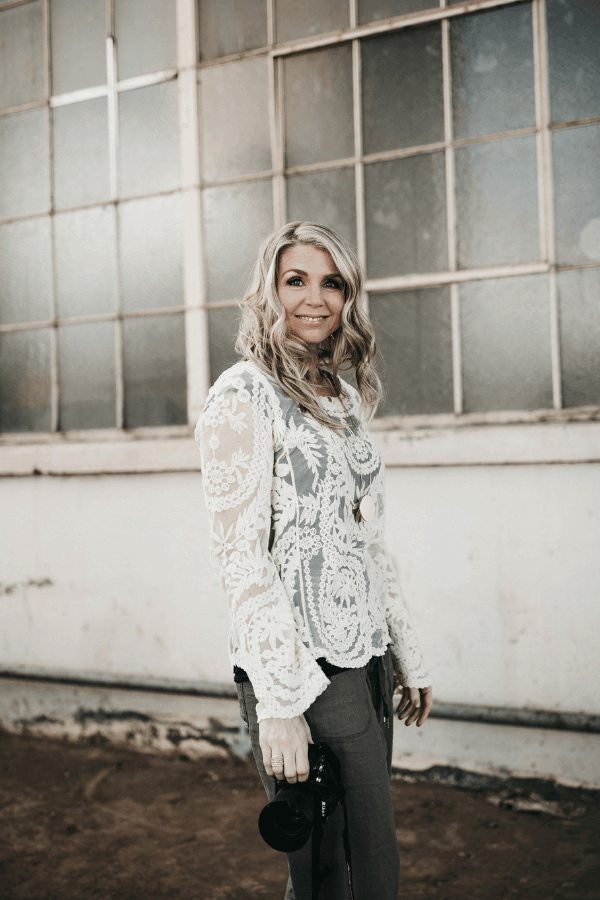 ______________________
Chelsea Adams works with moms who desperately want to preserve a moment in their busy lives. She helps them cherish their children and recognize their own worth and value through images of milestones. Such as the birth of a child, the graduation of a senior, the business headshots of their dreams, and the annual family Christmas card. Find her at CNAPhotography.net
KEEP READING